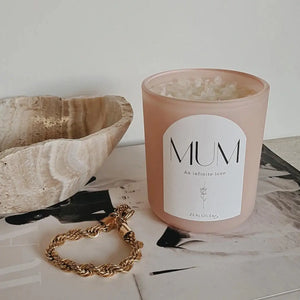 Spoil your mum any day with a luxury hand poured coconut soy candle, topped with a Rose quartz crystal chips.

Strawberries & Champagne -  Elegant flutes filled with sparkling pink champagne and fresh strawberries. A luxurious and romantic blend of bright berries, red rose and effervescent champagne. Base notes of floral green hyacinth and vanilla add a hint of sugar and spice. Notes: 
Top notes are fresh raspberry and peach nectar; middle notes are champagne, strawberry and red rose; base notes are hyacinth and vanilla bean.  
300g 50+ hours burn time